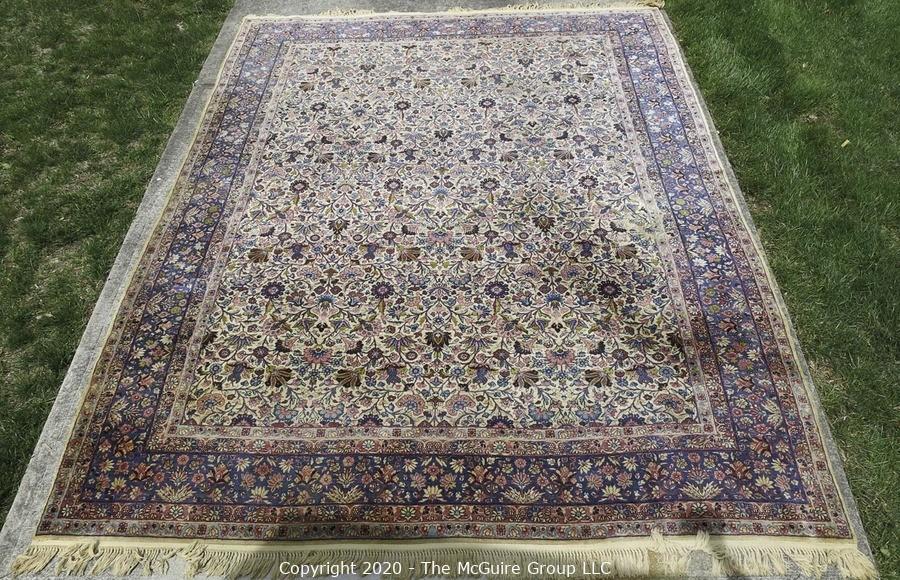 Lot #0022:
Kerman Persian Circa 1940 Hand Knotted Wool on Wool Rectangular Field with Flowers and Leaves on Beige Ground Surrounded by Five Border Guards. Measures approximately 105" x 145".
Bidding is

closed

.
High Bid:
$500.00
NA
Bidding Ended:
Thu, May 7 9:11:57 pm ET
High Bidder:
113
Bid Increment:
$10.00
Starting Bid:
$1.00
Item has been viewed 348 times.

| | | |
| --- | --- | --- |
| Bid Date | Bid Amount | Bidder |
| May 7, 2020 - 8:09:57 PM | $500.00 | i113 |
| May 7, 2020 - 8:09:57 PM | $495.00 | i491 |
| May 7, 2020 - 8:09:20 PM | $474.00 | i491 |
| May 7, 2020 - 8:09:20 PM | $464.00 | i113 |
| May 7, 2020 - 8:07:53 PM | $454.00 | i491 |
| May 7, 2020 - 8:07:53 PM | $444.00 | i113 |
| May 7, 2020 - 8:06:36 PM | $415.00 | i113 |
| May 7, 2020 - 8:06:36 PM | $405.00 | i1165 |
| May 7, 2020 - 8:06:26 PM | $395.00 | i113 |
| May 7, 2020 - 8:06:26 PM | $385.00 | i1165 |
| May 7, 2020 - 8:06:10 PM | $375.00 | i113 |
| May 7, 2020 - 8:06:10 PM | $365.00 | i1165 |
| May 7, 2020 - 8:06:05 PM | $355.00 | i113 |
| May 7, 2020 - 8:06:05 PM | $345.00 | i491 |
| May 7, 2020 - 8:04:05 PM | $335.00 | i491 |
| May 7, 2020 - 8:04:05 PM | $325.00 | i1165 |
| May 7, 2020 - 8:03:27 PM | $315.00 | i491 |
| May 7, 2020 - 7:52:42 PM | $305.00 | i1165 |
| May 7, 2020 - 7:52:42 PM | $300.00 | i1013 |
| May 7, 2020 - 7:52:31 PM | $295.00 | i1013 |
| May 7, 2020 - 7:52:31 PM | $285.00 | i1165 |
| May 7, 2020 - 7:52:26 PM | $275.00 | i1013 |
| May 7, 2020 - 7:52:26 PM | $265.00 | i1165 |
| May 7, 2020 - 7:52:19 PM | $255.00 | i1013 |
| May 7, 2020 - 7:52:19 PM | $245.00 | i1165 |
| May 7, 2020 - 7:21:21 PM | $235.00 | i1013 |
| May 7, 2020 - 7:21:21 PM | $225.00 | i868 |
| May 7, 2020 - 7:21:09 PM | $210.00 | i1013 |
| May 7, 2020 - 7:21:09 PM | $200.00 | i868 |
| May 7, 2020 - 7:20:59 PM | $190.00 | i1013 |
| May 7, 2020 - 7:20:59 PM | $180.00 | i868 |
| May 7, 2020 - 4:38:25 PM | $170.00 | i1013 |
| May 7, 2020 - 4:38:25 PM | $160.00 | i1188 |
| May 7, 2020 - 4:31:58 PM | $145.00 | i1013 |
| May 6, 2020 - 9:07:32 AM | $135.00 | i1165 |
| May 4, 2020 - 8:51:59 PM | $125.00 | i113 |
| May 4, 2020 - 8:51:59 PM | $120.00 | i1135 |
| May 4, 2020 - 8:51:35 PM | $105.00 | i1135 |
| May 4, 2020 - 8:51:35 PM | $100.00 | i113 |
| May 4, 2020 - 8:51:20 PM | $85.00 | i1135 |
| May 4, 2020 - 8:51:20 PM | $80.00 | i113 |
| May 1, 2020 - 11:06:45 AM | $60.00 | i1135 |
| May 1, 2020 - 11:06:45 AM | $55.00 | i79 |
| May 1, 2020 - 9:17:07 AM | $1.00 | i79 |