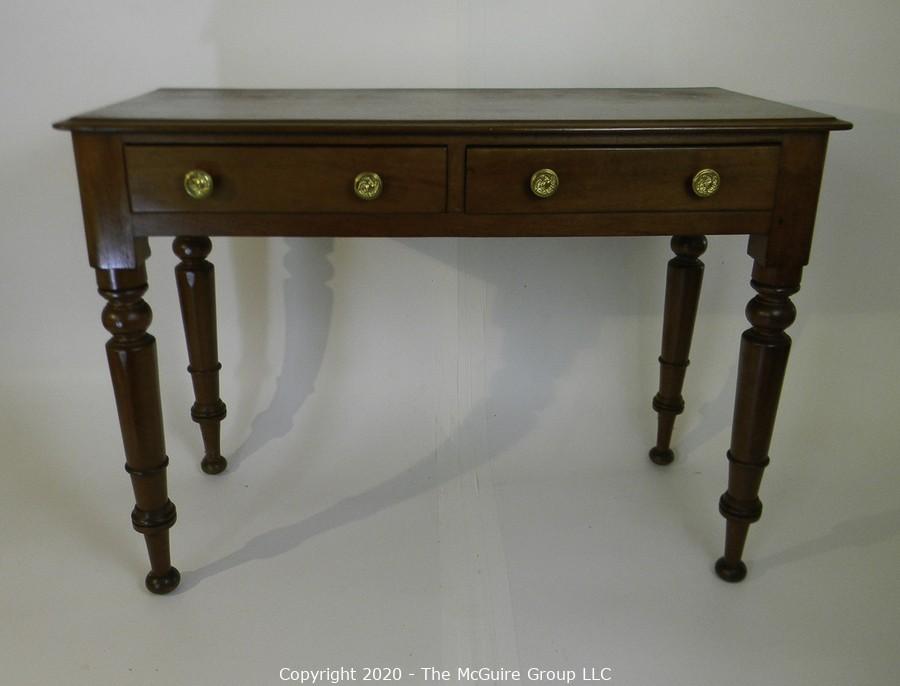 Lot #0011A:
Dark Mahogany Credenza or Console Table with Two Drawers, Brass Pulls and Turned Legs.
Bidding is

closed

.
High Bid:
$315.00
NA
Bidding Ended:
Thu, May 7 9:06:28 pm ET
High Bidder:
1172
Bid Increment:
$10.00
Starting Bid:
$1.00
Item has been viewed 397 times.

Measures approximately 41" long,  19" deep and 29" tall.
| | | |
| --- | --- | --- |
| Bid Date | Bid Amount | Bidder |
| May 7, 2020 - 8:04:28 PM | $315.00 | i1172 |
| May 7, 2020 - 8:04:14 PM | $305.00 | i585 |
| May 7, 2020 - 8:04:14 PM | $297.00 | i1172 |
| May 7, 2020 - 8:03:57 PM | $285.00 | i1172 |
| May 7, 2020 - 8:03:57 PM | $275.00 | i585 |
| May 7, 2020 - 8:03:39 PM | $267.00 | i585 |
| May 7, 2020 - 8:03:17 PM | $257.00 | i1172 |
| May 7, 2020 - 8:03:17 PM | $250.00 | i585 |
| May 7, 2020 - 8:03:12 PM | $221.00 | i585 |
| May 7, 2020 - 8:03:12 PM | $211.00 | i1172 |
| May 7, 2020 - 8:02:59 PM | $210.00 | i1172 |
| May 7, 2020 - 8:02:59 PM | $200.00 | i585 |
| May 7, 2020 - 8:02:31 PM | $189.00 | i1172 |
| May 7, 2020 - 8:02:31 PM | $186.00 | i585 |
| May 7, 2020 - 8:01:17 PM | $175.00 | i1172 |
| May 7, 2020 - 8:01:03 PM | $165.00 | i585 |
| May 7, 2020 - 8:01:03 PM | $157.00 | i1172 |
| May 7, 2020 - 8:00:15 PM | $143.00 | i1172 |
| May 7, 2020 - 8:00:15 PM | $133.00 | i585 |
| May 7, 2020 - 7:49:04 PM | $111.00 | i1172 |
| May 7, 2020 - 7:49:04 PM | $105.00 | i585 |
| May 7, 2020 - 12:54:28 PM | $82.00 | i585 |
| May 7, 2020 - 12:54:28 PM | $77.00 | i1172 |
| May 7, 2020 - 10:54:21 AM | $60.00 | i585 |
| May 7, 2020 - 10:54:21 AM | $55.00 | i1058 |
| May 6, 2020 - 1:35:57 PM | $49.00 | i1058 |
| May 6, 2020 - 1:35:57 PM | $47.00 | i1172 |
| May 6, 2020 - 1:27:05 PM | $44.00 | i1172 |
| May 6, 2020 - 1:27:05 PM | $39.00 | i1058 |
| May 3, 2020 - 3:04:14 PM | $31.00 | i1058 |
| May 3, 2020 - 3:04:01 PM | $26.00 | i79 |
| May 3, 2020 - 3:04:01 PM | $25.00 | i1058 |
| May 3, 2020 - 3:03:48 PM | $23.00 | i79 |
| May 3, 2020 - 3:03:48 PM | $21.00 | i1058 |
| May 3, 2020 - 3:03:34 PM | $19.00 | i79 |
| May 3, 2020 - 3:03:34 PM | $17.00 | i1058 |
| May 3, 2020 - 3:03:17 PM | $15.00 | i79 |
| May 3, 2020 - 3:03:17 PM | $13.00 | i1058 |
| May 3, 2020 - 3:02:57 PM | $11.00 | i79 |
| May 3, 2020 - 3:02:57 PM | $10.00 | i1058 |
| May 3, 2020 - 3:02:40 PM | $9.00 | i79 |
| May 3, 2020 - 3:02:40 PM | $8.00 | i1058 |
| May 3, 2020 - 3:02:23 PM | $7.00 | i79 |
| May 3, 2020 - 3:02:23 PM | $6.00 | i1058 |
| May 3, 2020 - 3:02:08 PM | $5.00 | i79 |
| May 3, 2020 - 3:02:08 PM | $4.00 | i1058 |
| May 3, 2020 - 3:01:44 PM | $3.00 | i79 |
| May 3, 2020 - 3:01:44 PM | $2.00 | i1058 |
| May 1, 2020 - 9:10:22 AM | $1.00 | i79 |