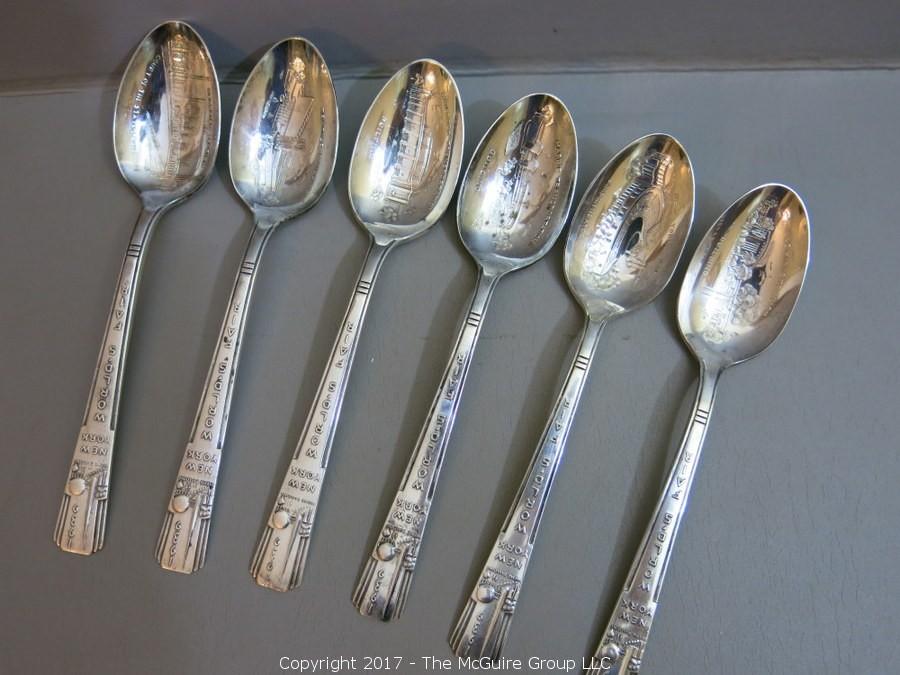 Lot #0007:
1939 New York World's Fair: 6 spoons

If requested, TMG will deliver this Lot to our warehouse at 148-C, Hillwood Ave., Falls Church, VA for Sunday, June 4 pickup; 12-30-2:30pm.  
Additional Fee: $3
TMG must be notified by winning bidder via email on Friday, June 2nd. No exceptions.  
| | | |
| --- | --- | --- |
| Bid Date | Bid Amount | Bidder |
| Jun 1, 2017 - 9:02:43 PM | $15.00 | i41 |
| Jun 1, 2017 - 9:02:44 PM | $15.00 | i143 |
| Jun 1, 2017 - 9:01:19 PM | $13.00 | i41 |
| Jun 1, 2017 - 9:01:05 PM | $11.00 | i143 |
| Jun 1, 2017 - 9:00:54 PM | $10.00 | i41 |
| Jun 1, 2017 - 9:00:54 PM | $9.00 | i143 |
| Jun 1, 2017 - 9:00:40 PM | $8.00 | i41 |
| Jun 1, 2017 - 9:00:12 PM | $7.00 | i143 |
| Jun 1, 2017 - 9:00:01 PM | $6.00 | i41 |
| Jun 1, 2017 - 9:00:01 PM | $5.00 | i143 |
| May 29, 2017 - 10:42:53 AM | $4.00 | i41 |
| May 29, 2017 - 10:42:53 AM | $3.00 | i62 |
| May 26, 2017 - 9:56:40 AM | $2.00 | i62 |
| May 25, 2017 - 9:48:26 PM | $1.00 | i72 |