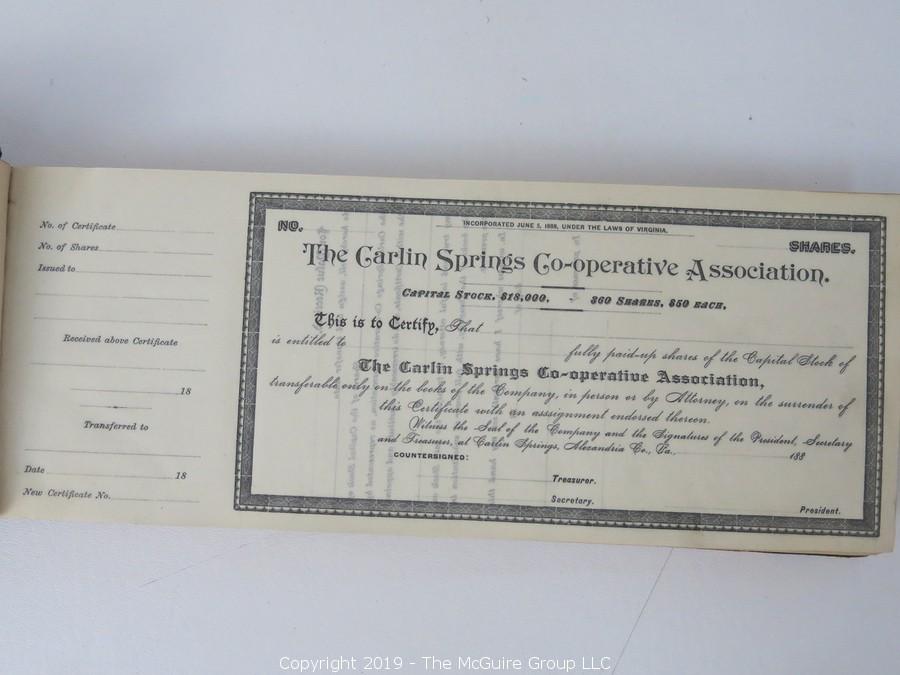 Lot #0005:
Mr. Curtis and Mr. Burdett established The Carlin Springs Cooperative Association in 1888. Everything found pursuant to the Association is being offered in this 1 Lot, as there may be an interest in keeping it together for historical preservation. The Association, the first planned community in Arlington County and one of the first nationwide, offered 360 shares at $50 each. The Association was disbanded in 1924, and included here are stock certificates issued and redeemed that comprise 329 of the 360 shares in the offering. In addition, there are cards indicating the Stock Cert #, the number of shares, the Purchaser, the Lot and Block #'s. Also included are voluminous papers that encompass the Treasurer's reports, invoices, advertisements, management notes and correspondence. (Note: If you would like to inspect, text me at 202-441-5446 to set up a appointment in a warm environment) 247 photos
Bidding is

closed

.
High Bid:
$1,190.00
NA
Bidding Ended:
Thu, Feb 21 9:05:14 pm ET
High Bidder:
520
Bid Increment:
$50.00
Starting Bid:
$1.00
Item has been viewed 624 times.

| | | |
| --- | --- | --- |
| Bid Date | Bid Amount | Bidder |
| Feb 21, 2019 - 9:03:14 PM | $1,190.00 | i520 |
| Feb 21, 2019 - 9:03:14 PM | $1,140.00 | i550 |
| Feb 21, 2019 - 9:03:00 PM | $1,105.00 | i550 |
| Feb 21, 2019 - 9:03:00 PM | $1,055.00 | i520 |
| Feb 21, 2019 - 9:02:25 PM | $1,004.00 | i550 |
| Feb 21, 2019 - 9:02:25 PM | $979.00 | i520 |
| Feb 21, 2019 - 9:02:11 PM | $928.00 | i550 |
| Feb 21, 2019 - 9:02:11 PM | $903.00 | i520 |
| Feb 21, 2019 - 9:01:50 PM | $878.00 | i550 |
| Feb 21, 2019 - 9:00:56 PM | $853.00 | i520 |
| Feb 21, 2019 - 9:00:56 PM | $850.00 | i550 |
| Feb 21, 2019 - 9:00:23 PM | $728.00 | i550 |
| Feb 21, 2019 - 9:00:23 PM | $703.00 | i520 |
| Feb 21, 2019 - 9:00:08 PM | $695.00 | i520 |
| Feb 21, 2019 - 9:00:08 PM | $670.00 | i550 |
| Feb 21, 2019 - 8:59:56 PM | $652.00 | i550 |
| Feb 21, 2019 - 8:59:56 PM | $627.00 | i520 |
| Feb 21, 2019 - 8:58:37 PM | $586.00 | i550 |
| Feb 21, 2019 - 8:58:37 PM | $561.00 | i520 |
| Feb 21, 2019 - 8:58:05 PM | $528.00 | i550 |
| Feb 21, 2019 - 8:58:05 PM | $503.00 | i520 |
| Feb 21, 2019 - 8:56:56 PM | $480.00 | i520 |
| Feb 21, 2019 - 8:56:56 PM | $470.00 | i550 |
| Feb 21, 2019 - 8:55:29 PM | $421.00 | i550 |
| Feb 21, 2019 - 8:55:29 PM | $411.00 | i520 |
| Feb 21, 2019 - 8:49:57 PM | $360.00 | i520 |
| Feb 21, 2019 - 8:49:57 PM | $350.00 | i550 |
| Feb 21, 2019 - 6:02:12 PM | $335.00 | i550 |
| Feb 21, 2019 - 6:02:12 PM | $325.00 | i |
| Feb 20, 2019 - 10:32:45 PM | $300.00 | i550 |
| Feb 20, 2019 - 10:32:45 PM | $290.00 | i |
| Feb 20, 2019 - 10:32:39 PM | $280.00 | i550 |
| Feb 20, 2019 - 10:32:39 PM | $270.00 | i |
| Feb 20, 2019 - 10:32:33 PM | $260.00 | i550 |
| Feb 20, 2019 - 10:32:33 PM | $250.00 | i |
| Feb 20, 2019 - 10:32:25 PM | $240.00 | i550 |
| Feb 20, 2019 - 10:32:25 PM | $230.00 | i |
| Feb 20, 2019 - 4:06:28 PM | $220.00 | i550 |
| Feb 20, 2019 - 4:06:28 PM | $210.00 | i575 |
| Feb 20, 2019 - 2:15:32 PM | $201.50 | i575 |
| Feb 20, 2019 - 2:15:32 PM | $191.50 | i561 |
| Feb 20, 2019 - 2:10:59 PM | $161.89 | i561 |
| Feb 20, 2019 - 11:35:17 AM | $151.89 | i575 |
| Feb 20, 2019 - 11:35:17 AM | $150.00 | i561 |
| Feb 20, 2019 - 11:34:34 AM | $111.50 | i561 |
| Feb 20, 2019 - 11:34:34 AM | $101.50 | i575 |
| Feb 18, 2019 - 3:12:59 PM | $67.00 | i561 |
| Feb 18, 2019 - 3:12:59 PM | $62.00 | i |
| Feb 18, 2019 - 3:12:31 PM | $57.00 | i561 |
| Feb 18, 2019 - 3:12:31 PM | $52.00 | i |
| Feb 18, 2019 - 3:12:15 PM | $47.00 | i561 |
| Feb 18, 2019 - 3:12:15 PM | $42.00 | i |
| Feb 18, 2019 - 3:12:04 PM | $37.00 | i561 |
| Feb 18, 2019 - 3:12:04 PM | $32.00 | i |
| Feb 18, 2019 - 3:11:50 PM | $27.00 | i561 |
| Feb 18, 2019 - 3:11:50 PM | $25.00 | i |
| Feb 18, 2019 - 3:11:37 PM | $23.00 | i561 |
| Feb 18, 2019 - 3:11:37 PM | $21.00 | i |
| Feb 18, 2019 - 3:11:24 PM | $19.00 | i561 |
| Feb 18, 2019 - 3:11:24 PM | $17.00 | i |
| Feb 18, 2019 - 3:11:11 PM | $15.00 | i561 |
| Feb 18, 2019 - 3:11:11 PM | $13.00 | i |
| Feb 18, 2019 - 3:10:47 PM | $11.00 | i561 |
| Feb 18, 2019 - 3:10:47 PM | $10.00 | i |
| Feb 18, 2019 - 3:10:31 PM | $9.00 | i561 |
| Feb 18, 2019 - 3:10:31 PM | $8.00 | i |
| Feb 18, 2019 - 2:19:55 AM | $5.00 | i561 |
| Feb 18, 2019 - 2:19:55 AM | $4.00 | i25 |
| Feb 14, 2019 - 12:36:01 PM | $3.00 | i561 |
| Feb 12, 2019 - 3:07:54 PM | $2.00 | i |
| Feb 12, 2019 - 2:45:42 AM | $1.00 | i405 |