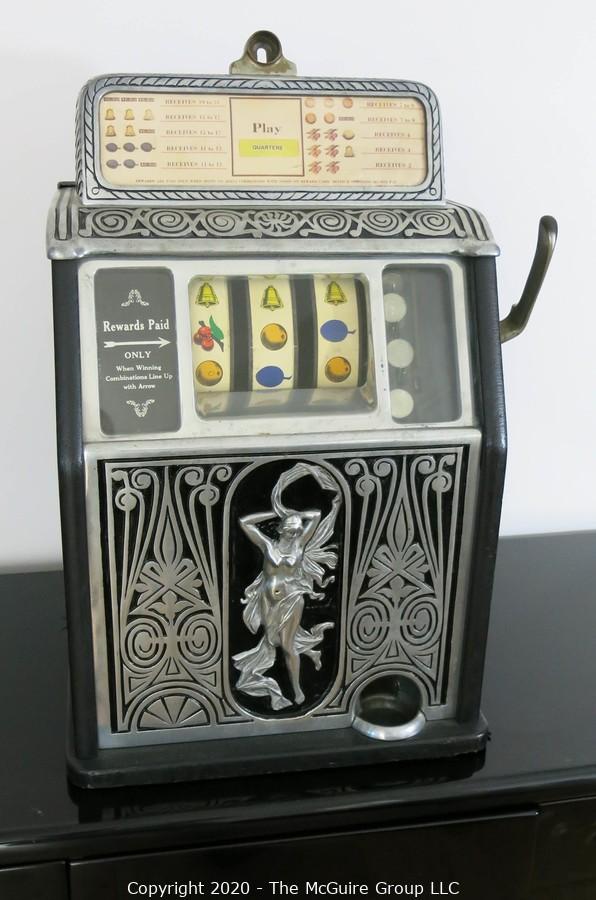 Lot #0071:
"The Naked Lady" Art Deco Caille Bros. Superior 25 Cent Bell Fruit Gum Slot Machine, circa 1925 in Working Condition. 13 5/8" x 12 3/8" x 22"T.
Bidding is

closed

.
High Bid:
$1,350.00
NA
Bidding Ended:
Thu, Nov 19 9:42:55 pm ET
High Bidder:
1500
Bid Increment:
$50.00
Starting Bid:
$1.00
Item Location:

148 Hillwood Ave

,

Falls Church

,

VA

22046

Item has been viewed 218 times.

This model stands out as a true pioneer in design, function and historical significance.  Most 1920's slot machines were functional in appearance, however, "The Naked Lady" has a sophisticated look that could be found in the classiest speakeasy or the shadiest of back rooms.  
| | | |
| --- | --- | --- |
| Bid Date | Bid Amount | Bidder |
| Nov 19, 2020 - 9:40:55 PM | $1,350.00 | i1500 |
| Nov 19, 2020 - 9:40:55 PM | $1,325.00 | i1514 |
| Nov 19, 2020 - 9:38:59 PM | $1,275.00 | i1500 |
| Nov 19, 2020 - 9:38:04 PM | $1,225.00 | i1518 |
| Nov 19, 2020 - 9:38:04 PM | $1,200.00 | i1500 |
| Nov 19, 2020 - 9:36:18 PM | $1,175.00 | i1500 |
| Nov 19, 2020 - 9:35:51 PM | $1,125.00 | i1514 |
| Nov 19, 2020 - 9:35:52 PM | $1,125.00 | i1500 |
| Nov 19, 2020 - 9:35:12 PM | $1,075.00 | i1514 |
| Nov 19, 2020 - 9:33:15 PM | $1,025.00 | i1500 |
| Nov 19, 2020 - 9:32:57 PM | $1,000.00 | i52 |
| Nov 19, 2020 - 9:32:57 PM | $975.00 | i1500 |
| Nov 19, 2020 - 9:05:46 PM | $950.00 | i52 |
| Nov 19, 2020 - 3:05:04 PM | $925.00 | i1500 |
| Nov 19, 2020 - 3:05:00 PM | $900.00 | i75 |
| Nov 19, 2020 - 3:05:00 PM | $875.00 | i1500 |
| Nov 19, 2020 - 3:04:50 PM | $850.00 | i75 |
| Nov 19, 2020 - 3:04:50 PM | $825.00 | i1500 |
| Nov 18, 2020 - 2:10:16 PM | $800.00 | i75 |
| Nov 18, 2020 - 2:10:16 PM | $775.00 | i1479 |
| Nov 18, 2020 - 10:29:04 AM | $450.00 | i1479 |
| Nov 18, 2020 - 10:29:04 AM | $440.00 | i531 |
| Nov 18, 2020 - 10:28:54 AM | $430.00 | i1479 |
| Nov 18, 2020 - 10:28:54 AM | $420.00 | i531 |
| Nov 17, 2020 - 3:22:19 PM | $410.00 | i1479 |
| Nov 17, 2020 - 8:21:52 AM | $400.00 | i1470 |
| Nov 17, 2020 - 8:21:52 AM | $395.00 | i935 |
| Nov 16, 2020 - 10:48:44 PM | $385.00 | i1470 |
| Nov 16, 2020 - 10:48:44 PM | $375.00 | i107 |
| Nov 16, 2020 - 10:48:35 PM | $310.00 | i107 |
| Nov 16, 2020 - 10:48:35 PM | $300.00 | i1470 |
| Nov 16, 2020 - 10:48:25 PM | $250.00 | i107 |
| Nov 16, 2020 - 10:48:25 PM | $240.00 | i1470 |
| Nov 16, 2020 - 10:48:15 PM | $230.00 | i107 |
| Nov 16, 2020 - 10:48:15 PM | $220.00 | i1470 |
| Nov 16, 2020 - 10:48:03 PM | $210.00 | i107 |
| Nov 16, 2020 - 10:48:03 PM | $200.00 | i1470 |
| Nov 16, 2020 - 9:20:52 PM | $185.00 | i107 |
| Nov 16, 2020 - 9:20:52 PM | $175.00 | i512 |
| Nov 14, 2020 - 2:34:54 PM | $150.00 | i512 |
| Nov 14, 2020 - 2:34:55 PM | $150.00 | i317 |
| Nov 13, 2020 - 4:56:56 PM | $135.00 | i512 |
| Nov 13, 2020 - 4:56:56 PM | $125.00 | i531 |
| Nov 13, 2020 - 4:56:46 PM | $115.00 | i512 |
| Nov 13, 2020 - 4:56:46 PM | $105.00 | i531 |
| Nov 13, 2020 - 4:56:39 PM | $100.00 | i512 |
| Nov 13, 2020 - 4:56:39 PM | $95.00 | i531 |
| Nov 13, 2020 - 4:56:34 PM | $90.00 | i512 |
| Nov 13, 2020 - 4:56:34 PM | $85.00 | i531 |
| Nov 13, 2020 - 4:56:26 PM | $80.00 | i512 |
| Nov 13, 2020 - 4:56:26 PM | $75.00 | i531 |
| Nov 13, 2020 - 12:13:24 AM | $10.09 | i512 |
| Nov 13, 2020 - 12:13:24 AM | $9.09 | i802 |
| Nov 12, 2020 - 7:41:56 PM | $1.00 | i512 |