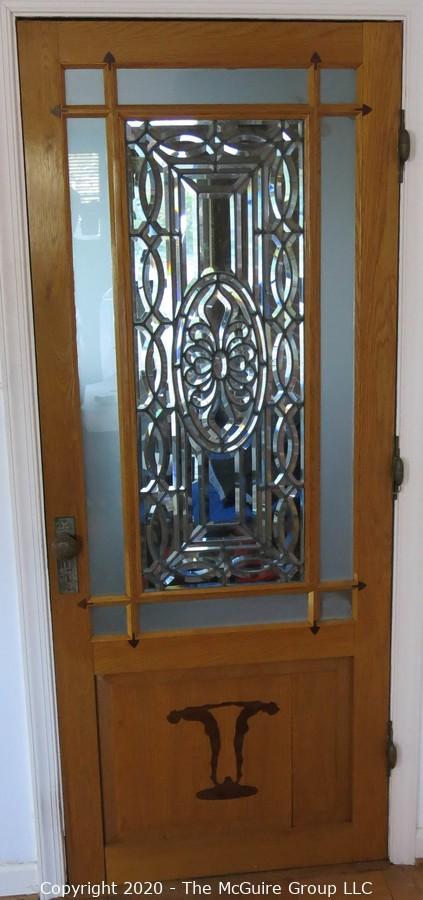 Lot #0014:
Solid Oak Interior Door with Center Leaded Faceted Glass Panel. Features two different marquetry inlaid accents on bottom panel and Art Deco Period Hardware, including 3 "Bullet" Hinges. Architectural Salvage. 31.5W x 75T x 1.75"
Bidding is

closed

.
High Bid:
$530.00
NA
Bidding Ended:
Thu, Nov 19 9:11:34 pm ET
High Bidder:
1514
Bid Increment:
$25.00
Starting Bid:
$1.00
Item Location:

148 Hillwood Ave

,

Falls Church

,

VA

22046

Item has been viewed 200 times.

| | | |
| --- | --- | --- |
| Bid Date | Bid Amount | Bidder |
| Nov 19, 2020 - 9:09:34 PM | $530.00 | i1514 |
| Nov 19, 2020 - 9:09:34 PM | $505.00 | i1497 |
| Nov 19, 2020 - 9:09:19 PM | $480.00 | i1497 |
| Nov 19, 2020 - 9:06:24 PM | $470.00 | i1514 |
| Nov 19, 2020 - 9:06:24 PM | $465.00 | i1497 |
| Nov 19, 2020 - 9:02:39 PM | $460.00 | i1497 |
| Nov 19, 2020 - 9:02:30 PM | $450.00 | i1514 |
| Nov 19, 2020 - 9:02:31 PM | $450.00 | i1497 |
| Nov 19, 2020 - 8:56:52 PM | $420.00 | i1514 |
| Nov 19, 2020 - 8:56:52 PM | $410.00 | i1497 |
| Nov 19, 2020 - 8:56:34 PM | $380.00 | i1497 |
| Nov 19, 2020 - 8:56:34 PM | $370.00 | i1514 |
| Nov 19, 2020 - 8:52:04 PM | $360.00 | i1497 |
| Nov 19, 2020 - 8:52:04 PM | $350.00 | i1514 |
| Nov 19, 2020 - 8:50:39 PM | $310.00 | i1514 |
| Nov 19, 2020 - 8:50:39 PM | $300.00 | i1497 |
| Nov 19, 2020 - 8:50:03 PM | $275.00 | i1497 |
| Nov 19, 2020 - 8:50:03 PM | $265.00 | i1514 |
| Nov 19, 2020 - 8:49:02 PM | $255.00 | i1497 |
| Nov 19, 2020 - 8:49:02 PM | $245.00 | i868 |
| Nov 19, 2020 - 5:55:02 PM | $235.00 | i1497 |
| Nov 19, 2020 - 5:55:02 PM | $225.00 | i868 |
| Nov 19, 2020 - 5:54:49 PM | $200.00 | i1497 |
| Nov 19, 2020 - 5:54:49 PM | $190.00 | i868 |
| Nov 18, 2020 - 11:23:37 PM | $180.00 | i1497 |
| Nov 18, 2020 - 11:23:37 PM | $170.00 | i1468 |
| Nov 18, 2020 - 4:40:24 PM | $101.00 | i1468 |
| Nov 18, 2020 - 4:40:24 PM | $96.00 | i531 |
| Nov 18, 2020 - 4:40:18 PM | $91.00 | i1468 |
| Nov 18, 2020 - 4:40:18 PM | $86.00 | i531 |
| Nov 18, 2020 - 4:40:13 PM | $81.00 | i1468 |
| Nov 18, 2020 - 4:40:13 PM | $76.00 | i531 |
| Nov 18, 2020 - 4:40:07 PM | $71.00 | i1468 |
| Nov 18, 2020 - 4:40:07 PM | $66.00 | i531 |
| Nov 18, 2020 - 4:40:00 PM | $61.00 | i1468 |
| Nov 18, 2020 - 4:40:00 PM | $56.00 | i531 |
| Nov 18, 2020 - 10:10:06 AM | $51.00 | i1468 |
| Nov 18, 2020 - 10:10:06 AM | $46.00 | i531 |
| Nov 16, 2020 - 8:19:04 PM | $41.00 | i1468 |
| Nov 16, 2020 - 8:09:24 PM | $36.00 | i49 |
| Nov 16, 2020 - 8:09:24 PM | $32.00 | i1468 |
| Nov 15, 2020 - 10:50:02 PM | $27.00 | i49 |
| Nov 15, 2020 - 10:50:02 PM | $25.00 | i1458 |
| Nov 15, 2020 - 8:06:17 PM | $2.00 | i1458 |
| Nov 13, 2020 - 4:41:50 PM | $1.00 | i531 |