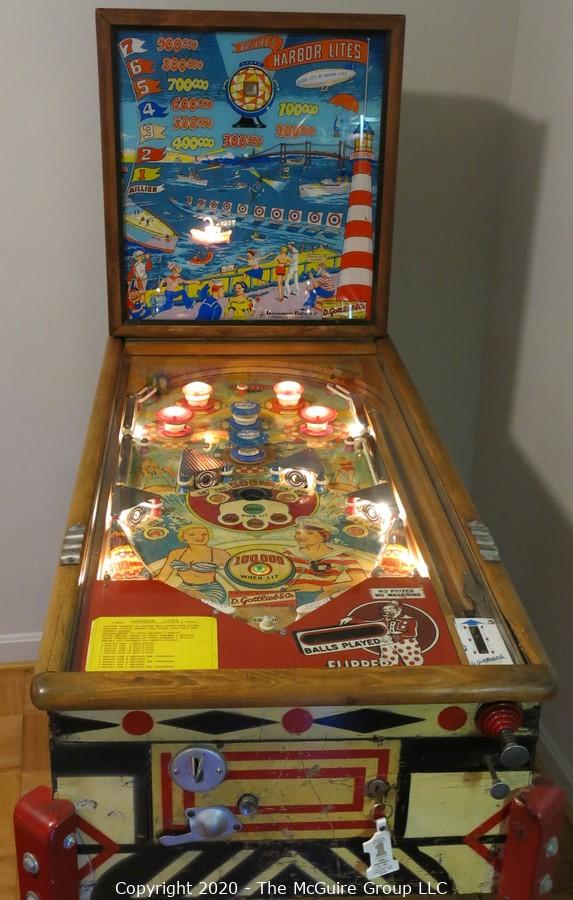 Lot #0006:
Limited Production 1956 "Harbor Lites", D. Gottlieb & Co. Electromechanical Pin Ball Machine, working condition, restored. 55"Long x 65"Tall at back x 26"Wide. Entertainment, Games
Bidding is

closed

.
High Bid:
$725.00
NA
Bidding Ended:
Thu, Nov 19 9:07:35 pm ET
High Bidder:
1514
Bid Increment:
$25.00
Starting Bid:
$1.00
Item Location:

148 Hillwood Ave

,

Falls Church

,

VA

22046

Item has been viewed 330 times.

Gottlieb, 2/56, 1500 produced, 1 gobble hole, the first Gottlieb 1 player to replace the bottom wooden ball arch to a silk screened metal ball arch (but still used the red plastic ball shooter gauge). Also first game to introduce the bullseye ("center score") target, where a metal target has a very small center "point" that gives a higher score if the shot is "dead on center". Game also had two slot kickers, just to the side of the flippers. These would kick the balls out from the lower ball arch diagonal to the two targets at the mid-playfield. Harbor Lites has three lit inserts signifying special, extra special, and super special. These give 1,2,3 replays. 
| | | |
| --- | --- | --- |
| Bid Date | Bid Amount | Bidder |
| Nov 19, 2020 - 9:05:35 PM | $725.00 | i1514 |
| Nov 19, 2020 - 9:03:41 PM | $700.00 | i1519 |
| Nov 19, 2020 - 8:59:57 PM | $675.00 | i1514 |
| Nov 19, 2020 - 8:44:59 PM | $650.00 | i1519 |
| Nov 19, 2020 - 8:44:59 PM | $640.00 | i1518 |
| Nov 19, 2020 - 7:55:46 PM | $625.00 | i1518 |
| Nov 19, 2020 - 7:55:22 PM | $600.00 | i1470 |
| Nov 19, 2020 - 7:55:23 PM | $600.00 | i1518 |
| Nov 17, 2020 - 9:47:15 PM | $575.00 | i1470 |
| Nov 17, 2020 - 9:47:15 PM | $550.00 | i1479 |
| Nov 17, 2020 - 9:47:00 PM | $510.00 | i1479 |
| Nov 17, 2020 - 9:47:00 PM | $500.00 | i1470 |
| Nov 17, 2020 - 3:18:35 PM | $430.00 | i1479 |
| Nov 16, 2020 - 10:32:11 PM | $420.00 | i1470 |
| Nov 16, 2020 - 10:31:55 PM | $410.00 | i77 |
| Nov 16, 2020 - 10:31:55 PM | $400.00 | i1470 |
| Nov 13, 2020 - 6:24:36 PM | $360.00 | i77 |
| Nov 13, 2020 - 6:24:36 PM | $350.00 | i512 |
| Nov 13, 2020 - 6:24:14 PM | $320.00 | i512 |
| Nov 13, 2020 - 6:24:14 PM | $310.00 | i77 |
| Nov 13, 2020 - 4:38:34 PM | $250.00 | i512 |
| Nov 13, 2020 - 4:38:34 PM | $240.00 | i531 |
| Nov 13, 2020 - 4:38:26 PM | $230.00 | i512 |
| Nov 13, 2020 - 4:38:26 PM | $220.00 | i531 |
| Nov 12, 2020 - 7:22:08 PM | $210.00 | i512 |
| Nov 12, 2020 - 7:22:08 PM | $200.00 | i1131 |
| Nov 11, 2020 - 9:08:49 PM | $1.00 | i1131 |