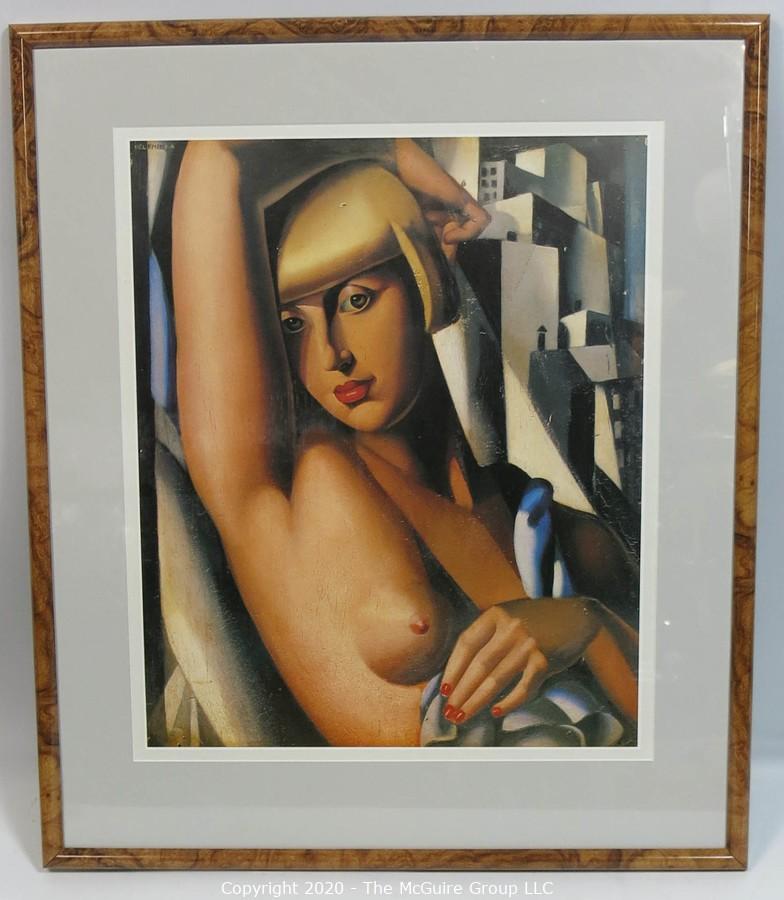 Lot #0024D:
Art Deco Framed Print by Tamara Lempika. Outside Dimensions 22 x 26"; Image Size 16 x 19"
Bidding is

closed

.
High Bid:
$235.00
NA
Bidding Ended:
Thu, Nov 19 9:20:00 pm ET
High Bidder:
1497
Bid Increment:
$10.00
Starting Bid:
$1.00
Item Location:

148 Hillwood Ave

,

Falls Church

,

VA

22046

Item has been viewed 146 times.

Tamara Łempicka, better known as Tamara de Lempicka, was a Polish painter who spent her working life in France and the United States. She is best known for her polished Art Deco portraits of aristocrats and the wealthy, and for her highly stylized paintings of nudes.
| | | |
| --- | --- | --- |
| Bid Date | Bid Amount | Bidder |
| Nov 19, 2020 - 12:18:28 PM | $235.00 | i1497 |
| Nov 19, 2020 - 12:18:28 PM | $225.00 | i513 |
| Nov 18, 2020 - 11:44:50 PM | $210.00 | i513 |
| Nov 18, 2020 - 11:44:50 PM | $200.00 | i1497 |
| Nov 18, 2020 - 11:35:55 PM | $180.00 | i1497 |
| Nov 18, 2020 - 8:12:25 PM | $170.00 | i513 |
| Nov 18, 2020 - 8:12:25 PM | $165.00 | i1468 |
| Nov 18, 2020 - 8:12:19 PM | $160.00 | i1468 |
| Nov 18, 2020 - 8:12:19 PM | $150.00 | i513 |
| Nov 18, 2020 - 8:12:14 PM | $140.00 | i1468 |
| Nov 18, 2020 - 8:12:14 PM | $130.00 | i513 |
| Nov 18, 2020 - 6:51:15 PM | $120.00 | i1468 |
| Nov 18, 2020 - 6:51:15 PM | $110.00 | i513 |
| Nov 17, 2020 - 11:09:41 PM | $100.00 | i513 |
| Nov 17, 2020 - 11:09:41 PM | $95.00 | i1468 |
| Nov 17, 2020 - 11:09:14 PM | $90.00 | i1468 |
| Nov 17, 2020 - 11:09:14 PM | $85.00 | i513 |
| Nov 17, 2020 - 10:42:47 PM | $80.00 | i1468 |
| Nov 17, 2020 - 10:42:47 PM | $75.00 | i513 |
| Nov 17, 2020 - 10:36:47 PM | $70.00 | i513 |
| Nov 17, 2020 - 10:36:38 PM | $65.00 | i1468 |
| Nov 17, 2020 - 10:36:39 PM | $65.00 | i513 |
| Nov 17, 2020 - 10:36:31 PM | $60.00 | i1468 |
| Nov 17, 2020 - 10:36:31 PM | $55.00 | i513 |
| Nov 17, 2020 - 10:36:24 PM | $50.00 | i1468 |
| Nov 17, 2020 - 10:36:24 PM | $45.00 | i513 |
| Nov 16, 2020 - 8:24:21 PM | $40.00 | i1468 |
| Nov 16, 2020 - 8:24:21 PM | $35.00 | i1458 |
| Nov 16, 2020 - 8:22:40 PM | $14.00 | i1458 |
| Nov 16, 2020 - 8:22:40 PM | $12.00 | i1468 |
| Nov 15, 2020 - 8:08:14 PM | $5.00 | i1458 |
| Nov 15, 2020 - 8:08:14 PM | $4.00 | i575 |
| Nov 15, 2020 - 11:19:12 AM | $2.00 | i575 |
| Nov 14, 2020 - 12:09:46 PM | $1.00 | i317 |